AKC Brussels Griffon
DOB: 04/23/19
Parents:
DAD: black & tan rough weighing 9 lbs
MOM: belge rough weighing 8 lbs
$3000 limited (no breeding rights) registration
$3500 full (breeding rights) registration
We have some really nice Brussels Griffon puppies to offer at this time.
The first litter we have to offer of Brussels Griffon girls is out of LT. Mom (LT) was born here on our farm out of one of our favorite girls bred to Dynasty - a black & tan male we imported from Lithuania in 2012. Dad (Xavier) we imported from Russian in July 2018. This litter has been in the making for over 5-7 years of planning. These are the first pups out of Xavier and we are really excited with the quality this litter is showing. I am guessing these pups will be 8-10 lbs. That is the perfect size if you have older children but still a nice indoor house dog size. Eve is the last pup available in the litter. Eve is a fuzzier rough coat that will need to be shaved off a couple of times a year or regularly combed once a week to keep from matting. Eve has a wonderful personality, spunky and loves to play. She is outgoing, friendly and is always ready for your attention. This litter has very nice show lined pedigrees. 3/4 European genetics, 1/4 US genetics. Will make fantastic breeder prospects with the genetics to back them up.
As a breed - Brussels Griffons are easy keepers with very little health issues. However they do not handle heat well as they are short nosed. They need air conditioning and indoor living. They require a little grooming - either a comb out weekly or a shave off every 3 - 4 months to keep them from matting. They are needy little dogs that prefer most if not all your attention LOL. They are wonderful little indoor house dogs that will worship you once bonded like you are their whole life. This is not a breed you can just ignore. If you do not want a dog ON YOU - you do not want a Brussels Griffon. They are often called VELCRO DOGS.

They can be difficult to house train and require time and consistency. They DO train and faster with a doggy door and crate training. They are intelligent, trainable little dogs that make great life companions. Typical life expectancy is 10-12 years.

These pups are going to make a perfect little companions for someone. They LOVE all the attention they can squeeze out of us!
DO NOT BE SCAMMED!!! If you are interested in purchasing a puppy off the internet from ANY breeder - use some common sense. If the deal sounds too good to be true.....it is. As for fraud control please ask your prospective breeder for SOMETHING. I recommend a picture of your name on a piece of paper with the date with the puppy standing next to that picture. If a scammer has stolen a picture he/she will not be able to do that for you because they do not have the puppy. Or references - a legitimate breeder will always be able to provide a reference from another buyer. There are just as many scammers stealing my photos to scam individuals as there are scammers taking innocent client's money. I don't mean to scare anyone. Everyone needs to protect themselves when purchasing anything through the internet. Or better yet - do a video call and see the pup live. Most legitimate breeders have cell phones that will allow this type of calling.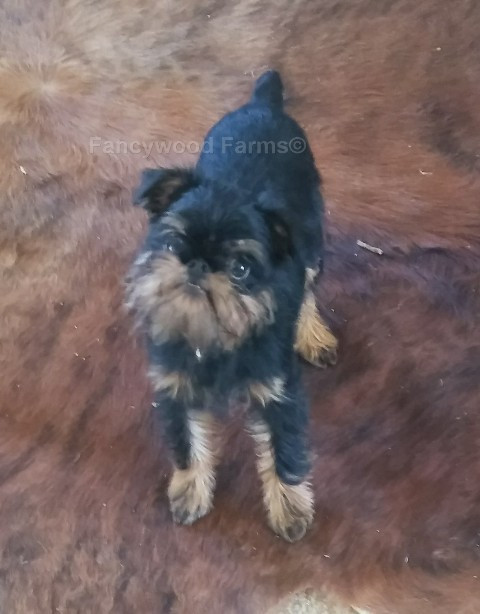 EVE - black & tan rough coat - AVAILABLE!