AKC Brussels Griffon
DOB: 05/10/19
Parents:
DAD: black & tan rough weighing 9 lbs
MOM: black rough weighing 8 lbs
$2800
Fantastic little AKC registered Brussels Griffon litter. Three adorable girls. Mom - Jewel has a bloodline that was imported from Russia several generations ago. She is a very friendly, outgoing, even tempered Griff weighing about 8 lbs. Dad - Xavier we imported from Russia in July 2018 and this is one of his first litters out of him.
Gerta, Gracie and Gina. Gerta is a lovely red rough. She is the most outgoing pup in this litter. Gracie and Gina are both black & tan girls and both have good rough coats on them. All three girls are friendly, good eaters and ready to bond with a new person. Gina is a needy little girl. She loves to be baby talked, loved on and the center of your attention. She is not a dog that will allow you to ignore her. They are ready to be somebodies EVERYTHING. They will come with their AKC registration, genetic health guarantee, up to date shot records and a sample of their food. I expect they will mature 8-10 lbs as the breed standard specifies.
As a breed - Brussels Griffons are easy keepers with very little health issues. However they do not handle heat well as they are short nosed. They need air conditioning and indoor living. They require a little grooming - either a comb out weekly or a shave off every 3 - 4 months to keep them from matting. They are needy little dogs that prefer most if not all your attention LOL. They are fantastic little indoor house dogs that will worship you once bonded like you are their whole life. This is not a breed you can just ignore. If you do not want a dog ON YOU - you do not want a Brussels Griffon. They are often called VELCRO DOGS.

They can be difficult to house train and require time and consistency. They DO train and faster with a doggy door and crate training. AKC has some great suggestions in this article to make the process easier and smoother. https://www.akc.org/expert-advice/training/puppy-training/the-ins-and-outs-of-potty-pad-training/
Brussels are intelligent, trainable little dogs that make great life companions. Typical life expectancy is 10-12 years.

All of these girls are going to make great little indoor house dog and life companions. If you have ever wanted that special bond with a dog that will worship you for their entire life.........look at the Brussels Griffon!
DO NOT BE SCAMMED!!! If you are interested in purchasing a puppy off the internet from ANY breeder - use some common sense. If the deal sounds too good to be true.....it is. As for fraud control please ask your prospective breeder for SOMETHING. I recommend a picture of your name on a piece of paper with the date with the puppy standing next to that picture. If a scammer has stolen a picture he/she will not be able to do that for you because they do not have the puppy. Or references - a legitimate breeder will always be able to provide a reference from another buyer. There are just as many scammers stealing my photos to scam individuals as there are scammers taking innocent client's money. I don't mean to scare anyone. Everyone needs to protect themselves when purchasing anything through the internet.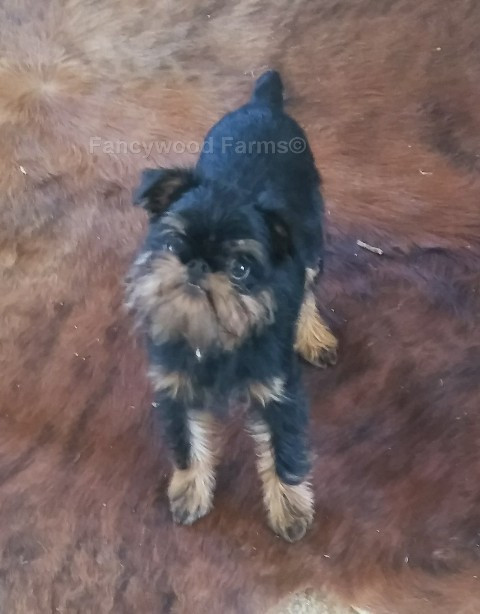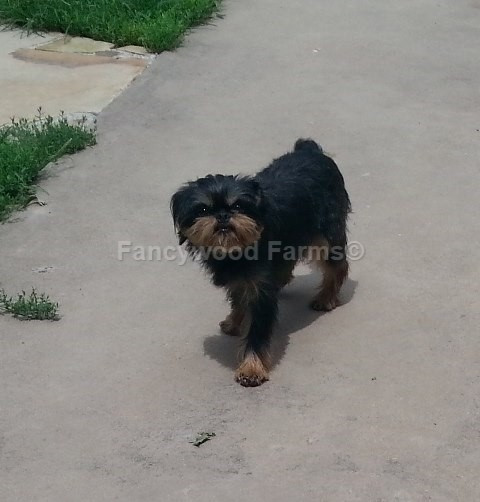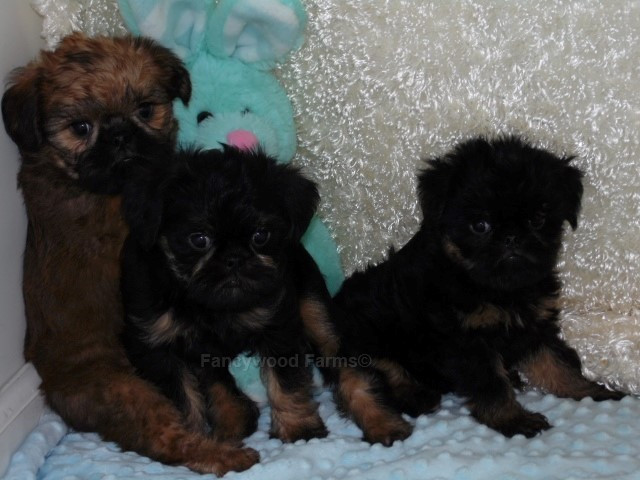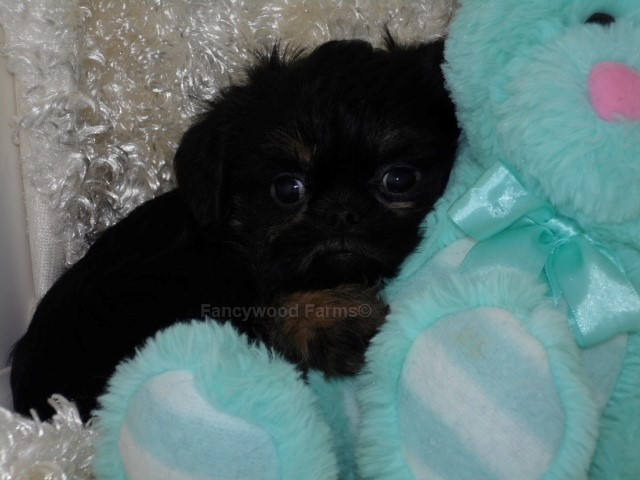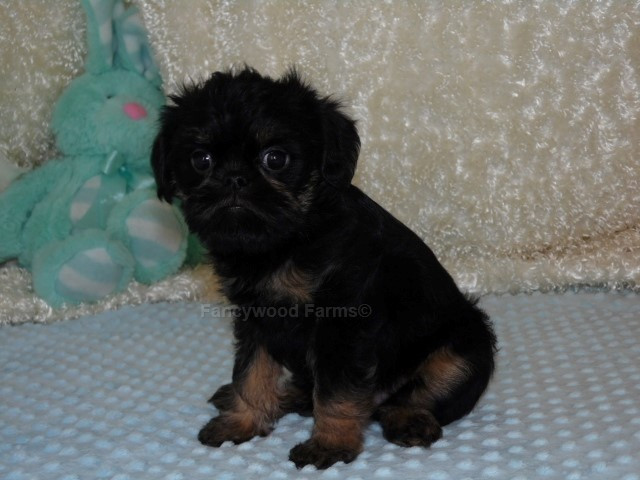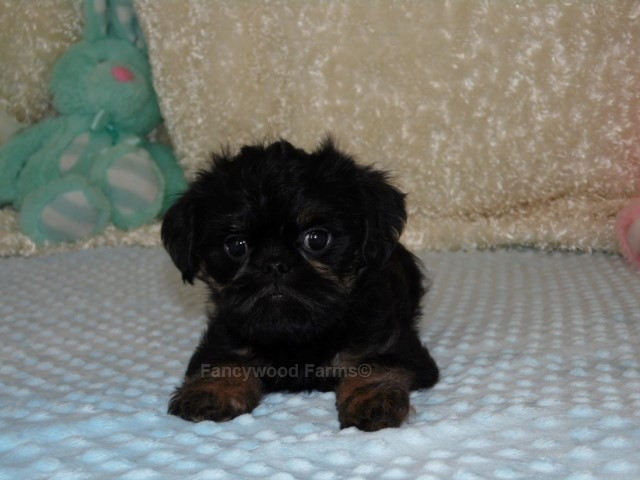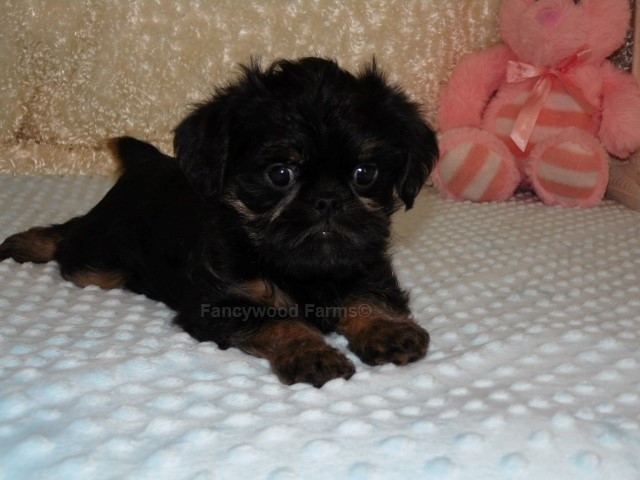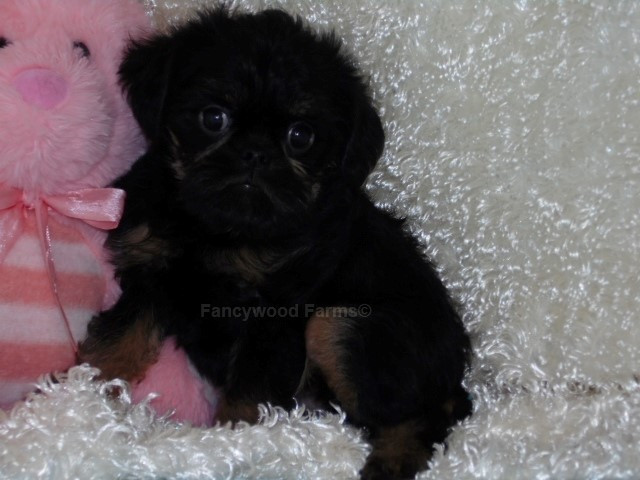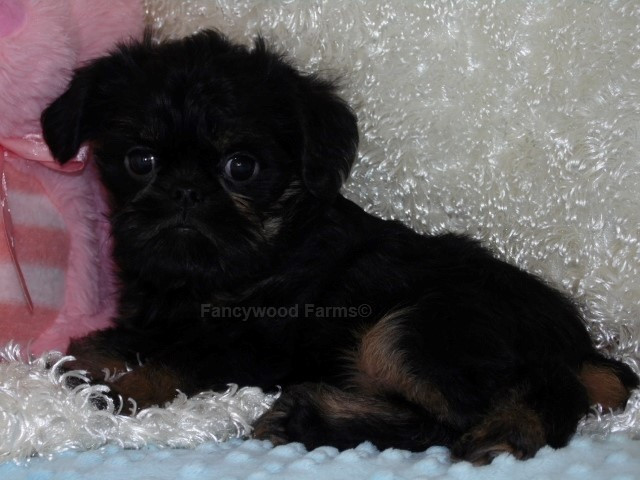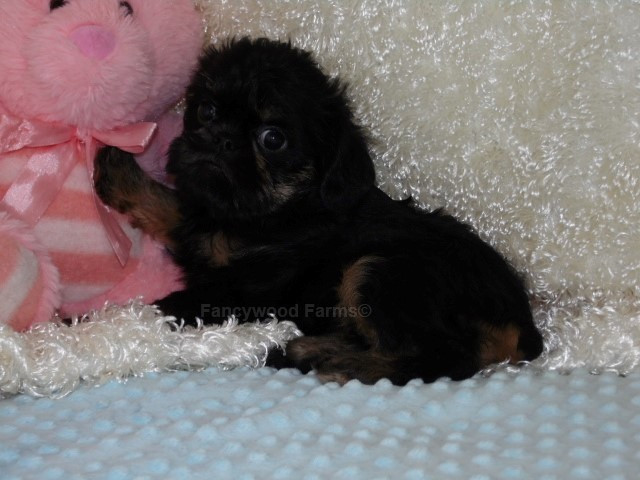 GRACIE - black & tan rough female - AVAILABLE!