AKC Scottish Terrier
DOB: 04/17/19
Parents:
DAD: black weighing 18 lbs
MOM: black weighing 20 lbs
Black males (1) - $550
Fantastic litter of AKC registered Scottish Terriers.
Mom- Heather is the Scottie that sleeps on the end of our bed. She has a great personality and has been genetic tested negative for CMO and for VWD III. She is black brindle and is typical Scottie size of about 20 lbs or so.
Dad - Angus is our go to black male. He is a good boy, great personality and just loves people. He has a very good attitude and wants to always please. He also listens well and is easy to train. We have genetic tested Angus for CMO (https://www.stca.biz/index.php/component/content/article?id=336:craniomandibular-osteopathy-cmo-in-the-scottish-terrier-stca-htf-health-series-no-2-) and also for VWD III (https://scottishterrierhealth.com/2013/03/25/von-willebrands-disease/) and was negative for both.
This breed is good with children, being rough and tumble to play hard. At this point I have only gotten a couple of this large litter photographed and online. Harley is the last pup in this litter. He is a great little guy. Doing very well with potty training now. Outgoing and brave, he is a good eater and stay right with you at all times. This pup is still very much a baby. His ears are up most of the time now. All are current on age appropriate immunizations and have been regularly de-wormed. These are nice, healthy, genetically correct Scottish Terrier puppies that will make wonderful indoor house dogs.
As a breed - Scottish Terriers are easy keepers with very little health issues. They require a little grooming - with most people shaving them off every so often to keep them from matting. They are great with children, being large enough to romp and play. They can be prone to allergies or food or environment but typically not many other health issues. They are fantastic little indoor house dogs; wanting their attention but also independent enough to sit on the couch and just lounge not requiring constant human interaction. My personal indoor Scottie - mom Heather prefers to stay within 5 feet of me and moves from room to room as I do but she only asks for occasional kisses and petting.

Smart little dogs that are great mousers. Not that hard to potty train with some time and consistency. We use a fenced yard and a doggy door for our Scotties. Typical life expectancy is 10-12 years.

DO NOT BE SCAMMED!!! If you are interested in purchasing a puppy off the internet from ANY breeder - use some common sense. If the deal sounds too good to be true.....it is. As for fraud control please ask your prospective breeder for SOMETHING. I recommend a picture of your name on a piece of paper with the date with the puppy standing next to that picture. If a scammer has stolen a picture he/she will not be able to do that for you because they do not have the puppy. Or references - a legitimate breeder will always be able to provide a reference from another buyer. There are just as many scammers stealing my photos to scam individuals as there are scammers taking innocent client's money. I don't mean to scare anyone. Everyone needs to protect themselves when purchasing anything through the internet.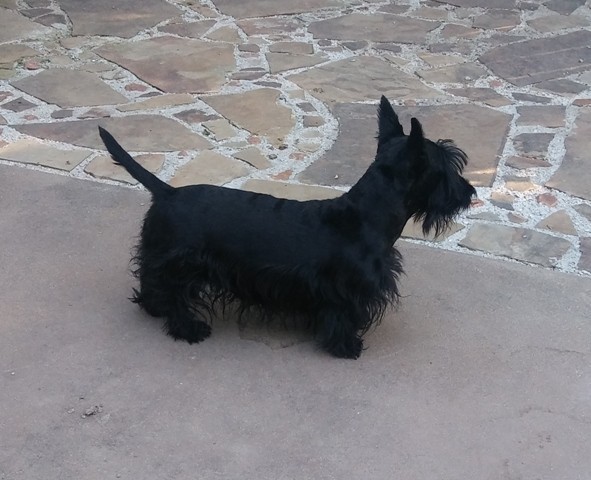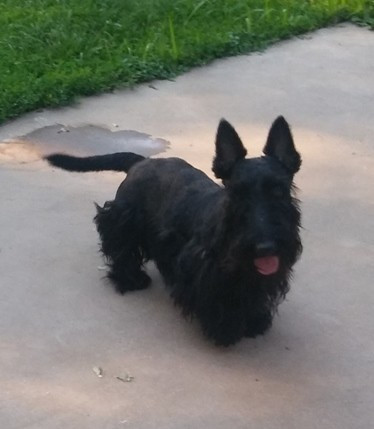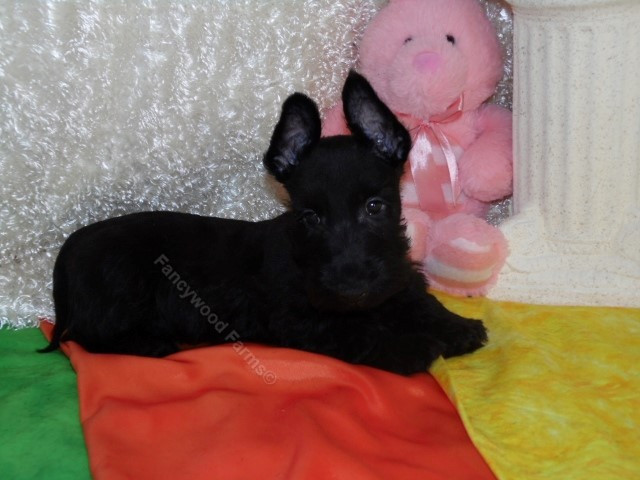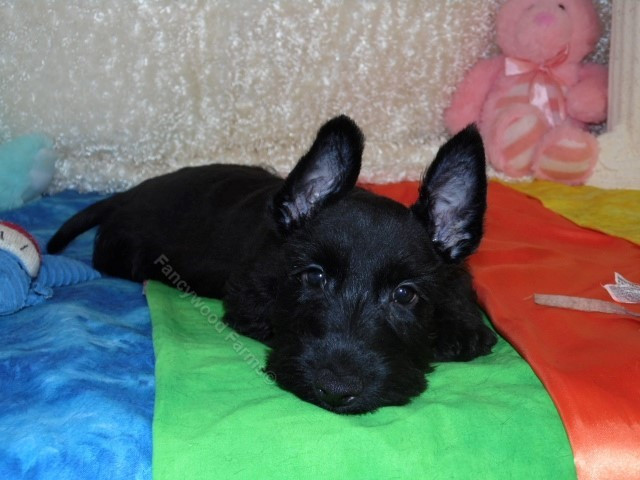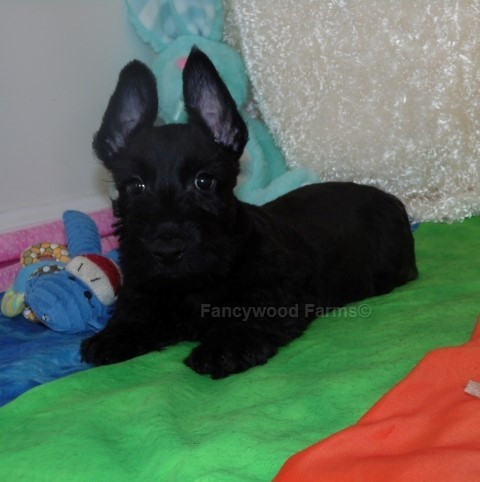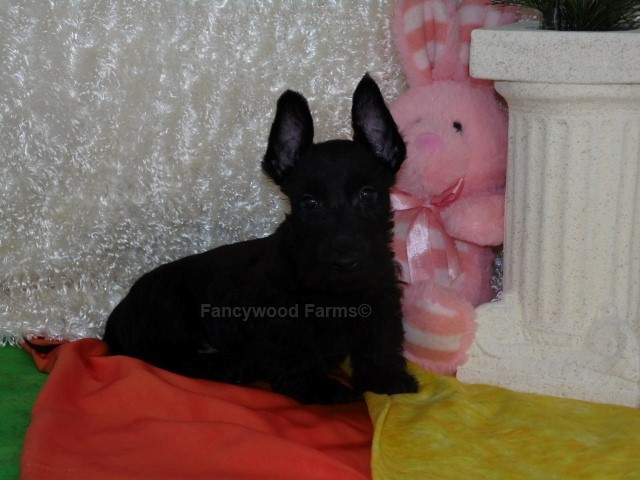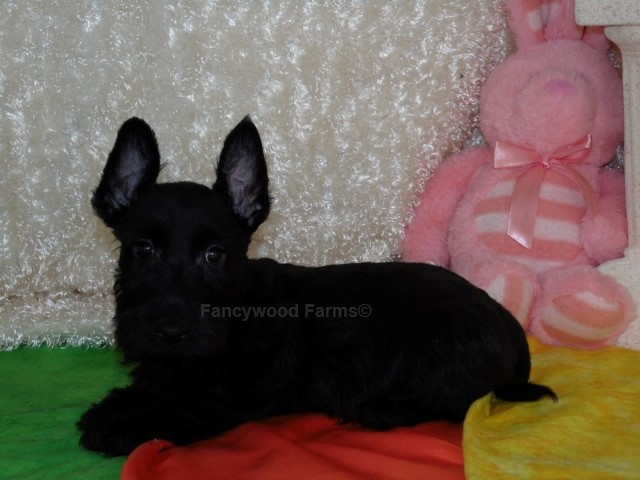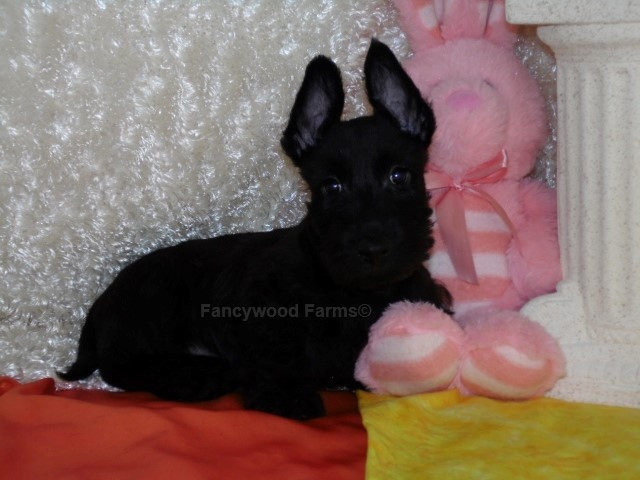 HARLEY - black male - SALE PENDING!